Meet the team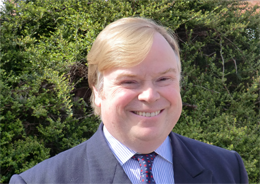 Bede Northcote
Bede founded Northcote Internet in 1998 and is the brains behind the whole operation having more or less created the investor relations webcasting business. He is a technological whizz, but probably spends too much time looking at a screen.

He most enjoys being out on site, advising clients and just making sure that everything works on the day. He has seen so many presentaitons, that he likes to think that he can advise you on your presentation.

He is determined to remain at the heart of the webcasting business getting larger and larger audiences.

Sarah Northcote
Sarah, also known as Sally is our Finance Director. With Bede, she founded the company and is a shareholder.

She ensures that everyone gets paid on time. She runs events for some clients and loves the video production work.
Klara Jurikova
Klara has been with the company for over five years and is integral to our team's succes so far. Running the production suite from our Main Communications Room (MCR) here at Battersea, she produces events and works very well under pressure. Klara is a professional with a keen eye for detail which is a key factor in producing the best webcasts for our clients.

Klara prides herself on delivering webcasts in a timely manner and being on hand (often at a very early hour) to guide clients through an event. Her knowledge and expertise provide our clients with peace of mind.

Her other role is maintaining the database behind our Annual Reports website.
Nina Parker
Nina has been with Northcote for over five years and works in the office 2 days a week. Nina has extraordinary organizational skills, she multi tasks with ease processing invoices and remittances and also providing clients with speedy, concise event planning information. Nina arranges conference calls, our transcription service and ensures the office is running to schedule.

With the ability to manage incoming and outgoing information often ranging over multiple events; Nina makes this look effortless which is no mean feat during our busy results periods.
Alex Campbell
Alex has been with us for over two years. He is enthusiastic about all areas of the business, particularly webcast production and building client relationships. His technical skills have been tested developing our new iPad application, and enabling php and css to run effectively.

He is now extending the webcasting functionality. He is helping Bede develop the next phase of webcast production.

Lauren Haigh
Lauren joined the team in October to help develop the business and be a point of contact for our lovely new and existing customers. Having worked in Events Management and Sales for over four years, supported by a first class degree in Events Management, Lauren has a wealth of knowledge of the industry, having engaged with a multitude of different event types and high profile clients. Do you have any questions, or wondering how we could enhance your investor relations?... Why not give Lauren a call and appease her love for a good chat
Anne Kronk
Just joined as our newest webcaster.
Alan Dunlop
Alan is our best vision mixer and video edtior. He has been helping us for over 12 years.
Mirko Beutler
Mirko is a vision mixer and camera operator who has worked for us for over 6 years. He is always determined to get our lighting right. This involves balancing the needs of the presenter and the camera. His particular area of expertise is in webinars using the full capabilities of the Sony Anycast. This means he can do many things at once.
Paul Venables
Paul is one of our very experienced sound engineers and also spends a lot of his time improving the way that we cable up equipment. He has been helping us for nearly ten years.